We specialize in Chevy small block car and truck engines for late model and classic GM cars, trucks and hot rods.
Do you need a new or remanufactured small block Chevrolet, GMC, Cadillac, Pontiac or GM engine for your car, truck or commercial vehicle?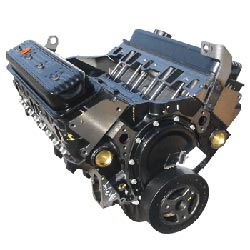 Find out more about our small block Chevys...
Our engine shop is the only domestic engine remanufacturer in British Columbia that is approved by the British Columbia Automobile Association (BCAA), and is registered with the Better Business Bureau. We are Canada's largest retail automotive engine remanufacturing plant and engine installer. Our goal is to provide a superior small block Chevrolet engine product that exceeds industry standards, which will result in the highest level of customer satisfaction. We strive to serve our customers with honesty, integrity and unmatched automotive service.
We also do high performance engines...